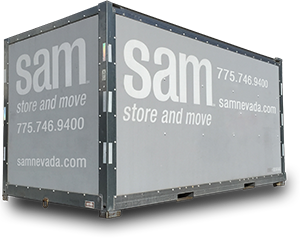 Moving and Storage Made Easy with Portable Storage Containers from Store and Move Nevada
Las Vegas and Reno Portable Storage Containers-similar to PODS®-New Moving and Storage Made Easy with Mobile Portable Storage Containers from Store and Move Nevada
Whether you're planning a moving project or looking for storage solutions, Store and Move provides a simple, similar to PODS®, affordable alternative to traditional moving and storage options. With 4 different sizes to choose from (20ft, 16ft, 5ft, and 4ft) our containers can hold your belongings even if you require something small (basement, garage patio, and attic items may require additional containers), just like PODS® making them perfect for moving, storage needs, remodeling or de-cluttering projects.
Our customers love the flexibility that our portable storage and moving containers offer. Not only are our portable containers ideal for both full-service and do-it-yourself moving, but we will drop the container off whenever you like and wherever you like. Take your time to fill the container, and then let us know when to pick it up and where to take it. It's just that easy!
Request A Quote
PODS® is a federally registered trademark of PODS Enterprises, LLC. Store and Move Nevada is not sponsored by, or affiliated with PODS Enterprises, LLC.
Store and Move Nevada

Reno
1095 Standard Street
Reno, Nevada 89506
775.746.9400


Las Vegas
1841 East Craig Road
North Las Vegas, Nevada 89030
702.505.9181